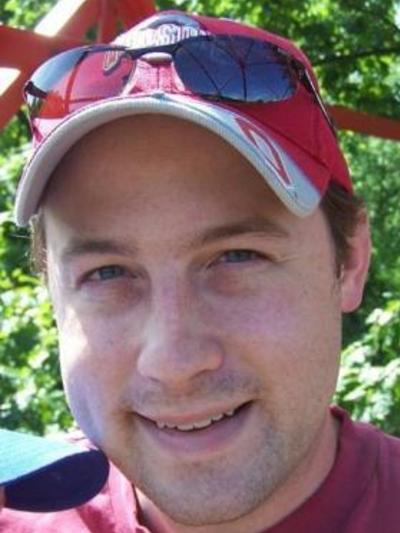 Andy Michel
Associate Director, Associate Professor, Entomology
210 Thorne Hall
1680 Madison Avenue
Wooster, OH 44691-4096
Areas of Expertise
Entomology
Field Crops
Evolutionary Biology
Education
2001 BS Entomology, Purdue University
2005 Ph.D Biology Entomology, University of Notre Dame
Interests & Expertise
Integration of basic biological and evolutionary research to solve applied research problems
Molecular interactions between insects and their environment
Genes that are favored during adaptation
Management strategies that limit pest impacts
Research Area
My overall goal is to understand how insect pests adapt to rapidly changing selection pressures in agroecosystems such as host-shifting to important crops or resistance to management tactics. A lack of understanding of how insect pests adapt limits the effectiveness and sustainability of insect management, and threatens agricultural production. Specifically, my research focuses on characterizing the genetic basis for insect pest adaptation and how these adaptive traits spread across the landscape. Our research methods range across scales, from molecular to ecosystems, and include genome sequencing, gene expression, molecular marker analysis, and migration and gene flow estimation across a species distribution. Understanding and demonstrating how insects adapt, as well as communicating research-based insect management recommendations, delays the evolution of resistance or emergence of pests and ensures safer and more productive food supply.
Research (70% appointment)
My Insect Molecular Ecology and Adaptation Laboratory (IMEAL) determines molecular interactions between insects and their environment, identifies genes that are favored during adaptation, and develop management strategies that limit pest impacts. Thus, the goal of my program is to integrate basic biological and evolutionary research to solve applied research problems. Currently, my laboratory focuses on major crop pests such as the invasive soybean aphid (the most important insect pest of soybean), the diamondback moth (a serious pest of vegetables), and western bean cutworm (an emerging corn pest). My program is also highly interdisciplinary, providing my expertise to other CFAES and OSU departments through graduate student committees and research projects. 
Extension & Outreach (30% appointment)
Field crops are at constant risk from insect attack, and control technologies are rapidly changing. Recommending the best control tactic involves integrating basic and applied research and provides impact to the OSUE Signature Program: Food Security, Production, and Human Health. Through collaborations with multiple stakeholders (farmers, government, industry and commodity organizations), my extension responsibilities focus on determining the best insect management practices and discussing the biology and data supporting these recommendations with clientele.
People Filters: